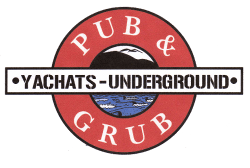 Yachats Underground Pub & Grub was established in 2010 by Dorothy and David Lothrop. Our grand opening was July 4, 2010 and was a smashing success.
We originally opened with two restaurants, the Upper Deck was upstairs and served a completely separate menu from the Pub & Grub. The upper deck featured an exceptional view, but proved too difficult to maintain with two separate menus and two separate staffs. The upper deck was consequentially closed and has since become the main office for Yachats Underground Pub and Grub and Two Shrew Brewery.
The pub itself has an exceptional view, and is the only upfront River and Oceanview from any restaurant in Yachats.
We have provided a map for your convenience. You are invited to join us a meal and lots of fun events.